Ready to Ship
and

Rockpool
'OCEAN ZEN'
L88mm W10mm H8mm A pair of pure sterling silver earrings featuring keshi pearls and your bespoke selection of natural fancy coloured sapphires.
Keiko Uno arranges keshi pearls to create a clean and uncluttered aesthetic juxtaposed with the playful and fanciful sensibility of natural fancy coloured sapphires in rainbow colours. These modern keshi pearl jewels offer a feel good luxury that we're all craving.
'Ocean Zen' pays homage to Keiko's Japanese cultural heritage. 'These Japanese zen rock garden inspired jewels channel calming and positive self-reflection to create a rich environment for growth and creativity. The design and process is about arriving at our authentic self to find deep joy and contentment.'
As unique as you, each pearl is caressed by nature into its one-of-a-kind form and colour. Please note the pearls shown in the image above are for reference only. Keiko Uno personally hand selects and matches each pearl to create your earrings, so you are assured to receive pearls of the quality and beauty matching those shown above.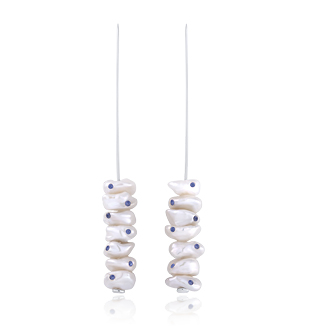 $880